With the enhancement in technologies and improvisation in internet services, Web Design has reached altogether new heights today. In common parlance, web design is all about design of any website, web portal, web application or mobile apps with proper layout, images, videos, fonts, colours, and graphics. An aesthetically attractive web design fosters higher UI and UX thereby creating effective brand visibility. Web design involves designing of webpages like homepage, about page, products/services page, contact page etc. These websites could be either multi-page or single page websites. Web designing could be different for E-commerce websites, Portfolio websites, Social Media websites, Blog sites, so on and so forth. These are designed and developed with technologies like HTML, CSS, Angular, React, Bootstrap etc.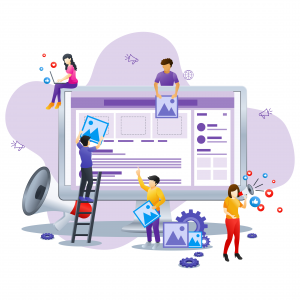 In a conventional web design, designers usually come up with a Header, a Footer and the body. Header incorporates components like firm name, logo, telephone number, email id, search bar, and a menu. Footer incorporates firm's address, geo-location [map], accreditations, quick links, copyrights, social media icons, and designer's name. On the other hand, the body of the page contains the relevant content of the firm's legacy, professional team, products, services, processes, subscription form, and the like.
In the contemporary web design, the header, footer and body have been worked out creatively without any clear demarcations. Further, these websites have evolved to be more dynamic in construct calling in relevant data from database tables as opposed to static designs. Over the years, web design has advanced from Adaptive Web Design [where content is fixed for given layout sizes] method to Responsive Web Design method where content is displayed dynamically depending on various screen sizes of desktops, laptops, or mobile devices.