SSL Certificate :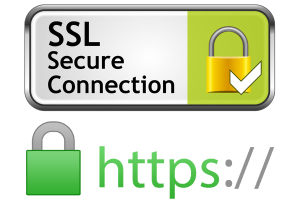 Every day, over 3 billion people are using internet globally for some or the other reason. Most of these access websites for getting desired information, or making a transaction. But, how many of us quite know how secure these websites are? If a website is devoid of security, then users' data is at absolute risk of being hacked. Every bit of information stored in database is vulnerable to manipulation. The wise solution in this regard is to have your website under lock and key for security reasons. This is achieved by getting Security Sockets Layer for your website.
A Secure Sockets Layer [SSL] certificate is a standardized technological security used for encryption of data between a website's origin Server and the user's browser. It is a digital certificate that authenticates that the users' data is securely encrypted by the owner of the website from any untoward attack from the hackers. This is evident with a visible Padlock icon at the left corner of the browser, and the URL switching from http to https thus protecting the sensitive customer data on the website.
An SSL certificate builds a secure digital tunnel blocking hackers from accessing any valuable data like user-name, password, and bank card numbers etc. assuring the customers privacy with the information entered on any secured page or subdomains. Moreover, with an Extended Validation SSL installed, the browser displays the company's name too to prove that the business one is transacting with is legitimate. What more you need when the SSL is working with over 99% of all the browsers making your business safe, secure and robust building that much required trust in all the users?
Importance of having SSL : 
Website is secured
Users' sensitive information is secured
Network login credentials are secured
Network traffic is secured
cPanel login credentials of hosting server are secured
Transfer of large files over https and FTPs is secured
Payment Access Gateways are secured
Credit cards information is secured
Web-mails are secured
Connection between email server and email client is secured
Cloud-based computing platforms are secured
some SSL providing sites :
https://zerossl.com/
https://www.ssl.com/
https://www.sslforfree.com/
https://godaddy.com/